Schiano Possible To Command The Pats Defense
February 1st, 2018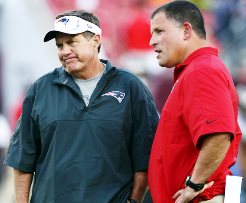 The story goes that Team Glazer hired Commander Greg Schiano to lead the 2012 Buccaneers because of a firm recommendation from Bill Belicheat.
The rest is bizarre Bucs history.
Schiano was a defense-first kind of guy. His 2012 Tampa Bay defense was No. 1 in the NFL against the run, a smothering. nasty bunch with Lavonte David and Michael Bennett living in opponents' backfields. But it finished as literally one of the worst defenses against the pass in the history of the NFL.
The next year, the Bucs traded for Darrelle Revis and signed safety Dashon Goldson to fix the secondary, while letting Bennett walk away in free agency for no good reason (and not much money). The result was a disaster. League rules cracked down on Goldson's big hitting. The loss of Bennett was insurmountable. And the offense was impotent, ranked last in the NFL.
Well, Belicheat remains impressed by Schiano.
Reports today out of NBC in Boston say Schiano will interview for the Patriots' defensive coordinator position after the Super Bowl, when current DC Matt Patricia will leave to be the Lions' head coach.
Man, this would be such a fitting happening in the wild soap opera that is your Buccaneers: Schiano alongside Belicheat and running his defense.
Joe has to wonder whether Schiano, in that scenario, would look for any of his former Bucs. Keith Tandy and Leonard Johnson (Bills) are free agents. Roy Miller needs a team, too.
If Bennett somehow ended up with New England under Schiano, that sure might answer a question or two about one of the dumbest and most mysterious decisions in Tampa Bay history.