A Lesson For Jameis In Blake Bortles' Wrist
February 1st, 2018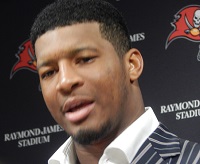 Remember that unsourced December NFL Network report from insider Ian Rapoport?
It claimed America's Quarterback, Jameis Winston, had/has a strained relationship with Dirk Koetter because Jameis "didn't feel fully supported" when it came to how his shoulder injury was discussed publicly.
Maybe there were elements of truth there. Maybe not. The report was firmly denied by Koetter and Jameis — and then Rapoport stood strong behind the report during a Tampa radio interview.
Regardless, Jameis can learn from the experience in various ways.
One thing Jameis should be clear on is that he can't be sensitive to how injuries are discussed. And if he is, then he can come out and set the record straight on his injuries long before he has to worry about what anyone else is chirping.
Despite throwing for the 11th-most yards in the NFL this season and landing the AFC Championship game, Jaguars QB Blake Bortles was a popular punching bag for NFL fans and uninformed media because of a handful of poor games.
Late last week, it was reported that Bortles had surgery on his throwing wrist after it was a lingering injury all season. And the news surprised a lot of people.
Bortles was on the official injury report every week (Jameis was not), but nobody in Jacksonville peeped about how the injury was or might have been a factor throughout the season.
All that media clubbing of Bortles, and the Jaguars — from Bortles to Tom Coughlin — ignored it while knowing their QB was staring down possible surgery after the season.
Funny how Rapoport didn't find any tension in Jacksonville.
What kind of factor was Jameis' shoulder in the Bucs' 5-11 season, one in which they went 2-1 without Jameis? That's unclear and unimportant. Playing hurt is part of the deal for every QB.