The Buccaneers And Denico Autry
February 1st, 2018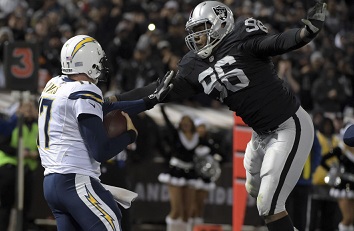 Remember the good ol' days of 2016, when the Bucs had a versatile defensive end with 6 1/2 sacks in Robert Ayers with rookie DE Noah Spence complementing him with 5 1/2?
That was hardly striking fear into offensive coordinators, but at least it was reasonable production. This year, all Bucs DEs combined for 7 1/2 sacks.
That's one sack off the edge for every 74 pass attempts. Unthinkable stuff.
The free agency dinner bell rings for the 2018 season in just 41 days. Hallelujah! It's Christmas day for the season of hope.
The market for defensive ends isn't special, but the Bucs can find talent upgrades.
Enter Denico Autry of the Raiders. He turns 28 in July and hasn't missed a game since 2015. His five sacks in 2017, well, they look like a pot of gold to Joe. Autry is versatile, rushing inside and outside, and he officially defensed (broke up) seven passes last season, which is a stunning number for a guy who only started in three games.
Joe likes that Autry was a late bloomer — great story linked here — entering the league at 23 years old undrafted out of Mississippi State, so he has limited tread on his tires.
There's speculation in Oakland that Chucky will want someone more ferocious at DE opposite mighty Kalil Mack and the Raiders will let Autry get paid on the open market.
Tampa will welcome you, Mr. Autry! Five sacks, versatile, we need you. Seriously, if the Bucs could just get their DE corps back to almost-average production, this team will be much better instantly.