Free Agency Countdown: 22 Days — Subpar Destination
February 20th, 2018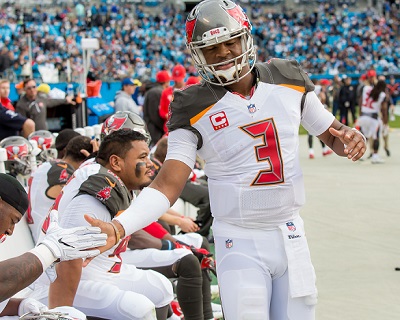 The Bucs have a giant wad of cash to spend under the salary cap, a player-friendly head coach, a QB respected for his competitive fire, gorgeous indoor practice and training facilities, and a strong leadership core on defense.
It's not enough.
That's the sentiment from longtime NFL.com columnist and SiriusXM Mad Dog Radio personality Adam Schein, who also is found on CBS Sports Network TV.
At NFL.com, Schein pumped out an in-depth look at the best nine free agency destinations this year. Six are in the NFC — Chicago, San Francisco, Detroit, Green Bay and Arizona — and the Bucs are nowhere to be found, not even an honorable mention.
Money talks in free agency. Therefore, Joe kind of thinks good guy Schein has lost his mind a bit here.
Anyone really think Jacksonville was a top destination when the free agency dinner bell rang? It wasn't. But Jacksonville feasted on stud free agents by waving fists of cash, and they turned out to be the right guys.
(On a side note, was any team other than Tampa Bay courting check-hungry, practice-hating Chris "Swaggy" Baker?)
But the Bucs are at a negotiating disadvantage in free agency for a few reasons:
1) Head coach and GM entering a "hot-seat" season.
2) Last place team in the NFL's toughest division means not a destination for a player seeking a ring quickly.
3) Uncertainty surrounding the quarterback position because of the NFL investigation into Jameis.
Again, money can eliminate all those question marks for 95 percent of free agents. So Joe is not concerned.