Free Agency Countdown: 16 Days — Trade "Tsunami" Coming
February 26th, 2018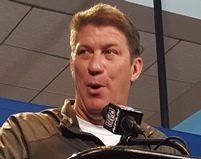 Great, logical point made over at NFL.com — and one that should ring true in a big way in a matter of hours.
The simple logic/math is as follows.
The salary cap is going up — again! — by about $11 million per team and a relatively weak free agency class awaits when the free agency dinner bell rings in 16 short days. Therefore, teams will be scurrying to trade so they can spend all that available money on the best players.
Around The NFL chief guru Gregg Rosenthal typed up the take, projecting at "Tsunami" of deals are imminent.
Your Buccaneers have talent to trade and needs to fill — and the Jason Licht/Dirk Koetter regime is fighting for its life. Tampa Bay appears ripe to acquire help.
The big-fish potential names are easy targets for Joe and fans, but Licht will earn his keep if he can find a way to pry a quality mid-level starter or two via trade. Could Kendell Beckwith fetch a full-time left guard? What about DeSean Jackson? Could he pull a young cornerback on the rise? Would Licht dare trade O.J. Howard or an edge rusher?
Joe's not looking to dump these guys, but the Bucs need help. And in a relatively down year for free agents, Licht might have to jump into the trade pool if that's where the talent is.