Down On The Bucs
February 8th, 2018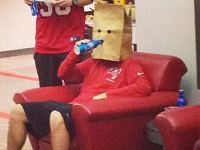 A well-respected national NFL columnist thinks the Bucs are just about the dregs of the NFL.
One cool thing that has happened to Joe since launching this here website almost 10 years is meeting cool NFL folks while traveling to games and league events. One of these guys is Mike Tanier, who types for Bleacher Report and FootballOutsiders.com.
Tanier is a really cool guy, and an even better writer — which is saying something given his former profession was — ick! — a math teacher.
(Column intermission: To this day, whenever the word "math" crops up, Joe has a deep-rooted urge to punch a nun.)
(Column intermission II: Prior to becoming a national NFL columnist, Tanier's greatest claim to fame was one of his high school math students made it to the NFL. You may have heard of this student: Some guy named Joe Flacco.)
Well, in his final NFL column of the season penned just after the Eagles won the Super Bowl, Tanier typed out in brief sentences what each team needs to make a run at a Super Bowl in 2018. In short, Tanier believes the Bucs rank as the No. 30 team in the NFL and his minces no words.
All they need to compete is a pair of pass-rushers. Oh yeah, and a coaching staff.
Joe won't go there. Joe has faith in Dirk Koetter. Yeah, Joe does. Do you not remember the Bucs finished the season with the No. 4 passing offense? And that was with a quarterback who had a bum shoulder.
And when Koetter last had a running attack the Bucs had the No. 5 offense in the NFL — a franchise best. And that was with a rookie quarterback, even.
So, yeah, Joe has faith in Koetter provided the team can get a running back.
Now the defense? Joe's in Tanier's camp there. Joe's seen enough in 32 games under Mike Smith to have a healthy dose of doubt with so many holes to fill.