Corner Help In The Super Bowl
February 4th, 2018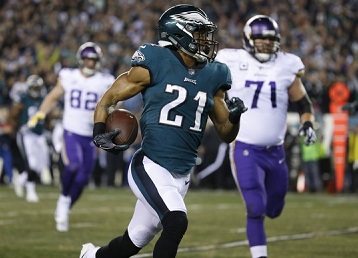 What's the most important aspect to this evening's Super Bowl? That's right! The players in it that might be able to help the Buccaneers next season.
Malcolm Butler fantasies aside, Joe's here now to focus on Eagles cornerback Patrick Robinson, one of the Eagles' heroes in the NFC title game against Minnesota. Robinson had four interceptions during the regular season and a pick-6 of Case Keenum two weeks ago.
Robinson turns 31 in September and was the last overall pick of the first round in the 2010 NFL Draft by New Orleans. (Three picks later, the Bucs selected defensive tackle Brian Price.) He'll be a free agent after the season and, since Super Bowl teams rarely have the cash to keep all their good players, there's lots of speculation Robinson will hit the market.
He was ok but nothing special for the Saints. A serious knee injury derailed him in 2013. but New Orleans brought him back in 2014. He then bounced to the Chargers and Colts before his special 2017 in Philadelphia.
Robinson should intrigue the Bucs as a versatile cornerback, kind of a better, more experienced version of current Bucs corner Robert McClain, who also could be a free agent in five short weeks.
Robinson won't command top dollar, and he could be a very interesting fit. There's no guarantee the Bucs will re-sign Brent Grimes, and there are too many hard Bucs question marks at corner to ignore a guy like Robinson.