The Bucs' Tackling All-Pro
February 3rd, 2018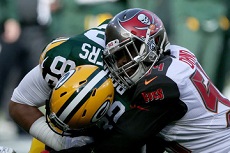 There's the eyeball test, and then there's the pure, objective NextGen tracking data of NFL players.
They don't always match up.
That was the focus of NFL.com writers Chris Wesseling and Matt Harmon this week.
They had the very neat idea to let Wesseling pick his personal All-Pro team the old fashioned way. Harmon countered by picking the league's best players using NextGen data, which tracks all kinds of player metrics via technology in balls and uniforms.
Not one Buccaneer made the list in the eyeball evaluation, however, Harmon's scrutiny of the NextGen stats led Lavonte David to be ranked as one of the three best linebackers in the NFL, alongside Luke Kuechly (Panthers) and Deion Jones (Falcons).
David was one of the few bright spots on an otherwise-uninspiring Buccaneers defense. He was a strong tackler, allowing running backs to gain just 2.26 yards on average after he'd close within 1 yard, ranking second among linebackers.
Now there's a lot more to playing linebacker than locking down running backs when they're withing one yard of you, but that's certainly very important and it means David is an efficient tackler. The tracking data does not lie.
It's still a negative mind-blower, though, that David finished the 2017 season with just one pass defensed, zero interceptions and zero sacks. Why did that happen? It's too easy to just blame Mike Smith.