Last Call — For The Offense
February 19th, 2018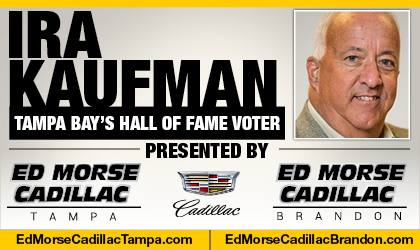 BY IRA KAUFMAN
Dirk Koetter needs some help, and he's not too proud to admit it.
Entering his third year as head coach of the Bucs, Koetter realizes a 14-18 overall record doesn't cut it for the Stick Carriers. After the excitement of 2016, Tampa Bay supporters expected a playoff contender last fall.
Instead, they have suffered through 13 losses in the past 19 games. Much of the blame has been placed on Mike Smith's soft defense, but the hard truth is Koetter's baby, the offense, hasn't lived up to its part, either.
Koetter has the right to feel confident about his play-calling abilities, but it has become painfully obvious that the promotion to head coach has taken time and focus away from his responsibilities as overseer of the offense.
Last month, Koetter announced that Todd Monken will relinquish his gig as wide receivers coach to take on offensive coordinator duties full-time instead of part-time.
That's another set of eyes, and another sharp mind, focused on bringing out the best in Jameis Winston and associates.
That's a good thing, because Koetter's attack has regressed since he first joined the Bucs in 2015 as Lovie Smith's offensive coordinator. Despite a minus-5 turnover differential that season, the Bucs ranked fifth in total offense, setting a franchise record by averaging 376 yards per game.
Scale Is Off
The key was wonderful balance, with Koetter ordering up runs on 45 percent of the snaps as Doug Martin and Charles Sims each averaged 4.9 yards per carry.
The ground game has been ineffective since Koetter moved into the head coach's office, forcing him to place more of a burden on a young quarterback. The Bucs ran on 42 percent of their snaps in 2016 and that number plunged to 38 percent last season.
Koetter knew there would be a transition process from coordinator to top dog, but he's still finding his way.
"You get into that seat and there are so many things that happen that you aren't ready for, that you can't know until you experience being the head coach,'' says Tony Dungy. "There are the media demands. All of a sudden you're the face of the franchise. There are so many non-football things you have to deal with.''
This fall, former offensive coordinators like Frank Reich (Colts), Matt Nagy (Bears) and Pat Shurmur (Giants) will discover that the heat turns up when the buck stops here.
It's a different skill set, one that Koetter needs to master in a hurry.
"I feel like my personality lends itself maybe even better to the pro level than college level," Koetter said when he replaced Smith. "I think I can connect with these guys. Is there going to be a period of adjustment? Yes. But there are other coaches in this league who are offensive or defensive or play-callers and it's working just fine. It can work."
Higher Stakes
With Koetter and Monken working together closely, a better attack has to emerge. That 2015 offense didn't feature DeSean Jackson, O.J. Howard or Chris Godwin. Cameron Brate and Adam Humphries were bit players. Donovan Smith and Ali Marpet were rookie starters up front.
Yet Koetter made it work with innovative formations and calls that played to Tampa Bay's strengths. It's different now. The stakes are higher.
Koetter is still trying to prove he belongs in this select group of 32 captains of industry. If he cedes some authority to Monken, so be it. The big picture is what counts.
"I really believe that the head coaching job is a CEO position," says new Giants GM Dave Gettleman. "You look at the great head coaches and I'll tell you right now, there ain't a dumb one in the group. They're all leaders. They all know how to lead men."
Ira Kaufman is the most revered sports personality and writer in town. He has hung his hat at JoeBucsFan.com world headquarters since July 2016. Tampa Bay's only Pro Football Hall of Fame voter, Ira busts out columns here every Monday, Wednesday and Friday, and his award winning podcasts fire Tuesdays and Thursdays. You can also hear Ira on SiriusXM Mad Dog Radio Wednesdays during football season, and see him now on Mondays and Fridays at 10:30 p.m. on Spectrum Sports 360. Ira also is part of the FOX-13 Tailgate Sunday and enjoys beet salads, Riesling, Chiefs victories and needling Joe.