A Referendum On Pressure
February 7th, 2018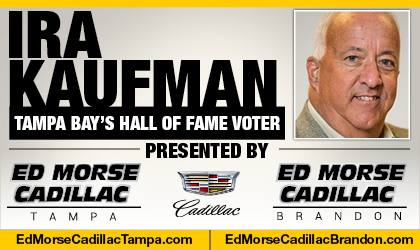 Ira Kaufman is the most revered sports personality and writer in town. He has hung his hat at JoeBucsFan.com world headquarters since July 2016. Tampa Bay's only Pro Football Hall of Fame voter, Ira busts out columns here every Monday, Wednesday and Friday, and his award winning podcasts fire Tuesdays and Thursdays. You can also hear Ira on SiriusXM Mad Dog Radio Wednesdays during football season, and see him now on Mondays and Fridays at 10:30 p.m. on Spectrum Sports 360. Ira also is part of the FOX-13 Tailgate Sunday.
BY IRA KAUFMAN
Sunday's Super Bowl wasn't exactly a primer on defensive football, but let's not forget what happened in crunch time.
Tom Brady had the ball with more than two minutes remaining and his Patriots down by only five points. There wasn't an Eagle fan in North America who was confident in the outcome, not with the greatest quarterback of his generation set to engineer yet another classic comeback.
So what happened? Defensive end Brandon Graham made a play, knocking the ball out of Brady's hand, and rookie DE Derek Barnett fell on the fumble.
Philly added a field goal and the Pats had to use all of their timeouts to give Brady another chance, which ultimately fell short.
Graham's strip was perhaps the key play on the NFL's biggest stage, but it didn't come in a vacuum. Instead of reaching for oxygen, Philadelphia's pass rush peaked down the stretch, and that's a lesson that should resonate at One Buc Place.
"In the fourth quarter, if you have only four rushers, they're exhausted," says Tedy Bruschi, the ESPN analyst who earned three Super Bowl rings as Brady's teammate. "You're gassed, especially if New England is throwing it over 40 times. With Philadelphia rolling in all these guys, that rush was fresh for four quarters."
Before the Bucs can even think about matching Philadelphia's impressive depth up front, Tampa Bay needs to find four effective defensive linemen.
Polar Opposites
The Eagles did such a masterful job adding to the mix, no defensive lineman played more than 64 percent of the snaps this season.
Graham, Barnett, Fletcher Cox, Vinny Curry, Chris Long, Tim Jernigan and Beau Allen took turns hunting down quarterbacks and stuffing running plays.
As a result, savvy defensive coordinator Jim Schwartz had the luxury of dropping seven in coverage. In contrast, Mike Smith was forced to send an assortment of extra bodies in an effort to disrupt the timing of opposing quarterbacks.
"It's funny," says Schwartz. "No matter where you go, people want to see the blitz. That's every fan in the stands: you've got to blitz, blitz, blitz. I think what they're really saying is you have to pressure the quarterback. That's probably the No. 1 thing in the passing game.

"The ability to do that without blitzing just adds another guy to coverage. If you pressure with four, it just gives you the ability to do so many other things coverage-wise."
When Dirk Koetter looked back at a disappointing 2017 season, he acknowledged that the lack of pressure from a 4-man rush was a major factor. And by the way, Tampa Bay's extensive blitz packages rarely generated an effective pass rush.
Game Of Pieces
That's a story for another day. The point is that New England's offensive line, so well coached and so cohesive through three quarters, broke down with the game on the line.
During the glory days, the Bucs dominated on defense with a scheme based on pressure from their defensive front. Derrick Brooks, a first-ballot Hall of Famer, registered 13 1/2 sacks in 14 seasons. Fellow linebacker Shelton Quarles dropped quarterbacks 13 times in 10 years.
It helps when you've got a Warren Sapp and a Simeon Rice creating havoc up front. Jason Licht knows these Bucs have to overhaul their defensive line. Lack of pressure was a key factor in Tampa Bay's shocking decline in third-down defense … plunging from first to last.
The Eagles never stopped adding pieces up front and when the last piece of Super Bowl confetti floated down, that commitment to the trenches had fueled a 16-3 season.
Can you blame Buc fans for being jealous?
This upcoming season is shaping up to be a referendum on pressure.