When Failure Is Accepted
January 18th, 2018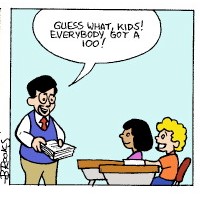 Joe just doesn't understand it.
Unless you own your own business (Joe's very lucky in this regard), every one of us has to go through a work evaluation. Joe's been there before. You sit down with your supervisor, maybe a human resources director, and you are told pretty much what a terrible slob you are or what a great worker you are. Either way, it's not good enough so shape up or we may ship you out.
So just like most of us, Bucs coaches had to go through an eval with their coordinator and/or Dirk Koetter this month. It seems, at least with his defensive coaches, Koetter grades on a curve that sinks lower than a burned out casino boat on the Gulf of Mexico.
Why? Because as we all know the entire Bucs coaching staff, at this point, will be retained for the 2018 season.
So for a team that was worst in the NFL on defense in yards per game, third down conversion percentage, passing yards per game, season passing yards and sacks, Bucs secondary and defensive line coaches got a passing grade, eh?
(Mind you these godawful defensive numbers were accumulated despite the Bucs having one of the best linebacker units in the game, highlighted by two Pro Bowlers and backups who easily could be starting for other teams.)
Joe brings all this up (again) because other teams who actually have goals are neither satisfied nor content with just being good enough. Seattle, a team that has been to the postseason in six of the last eight years including two Super Bowl appearances and one Vince Lombardi Trophy, completed their sweep and ran off their defensive coordinator this week, Kris Richard, days after offing its offensive coordinator, Darrell Bevell.
Oh, and the Steelers? The team that considers a nine-win season a failure? An annual playoff team? They just waved goodbye to their offensive coordinator, Todd Haley, despite having the No. 3 offense in the NFL and putting up 42 points on the No. 2 defense in the NFL on Sunday.
(Joe might also mention how a team from Wisconsin that is a regular participant in the NFL postseason that lost its starting quarterback to injury just had an upheaval of its coaching staff, too. Joe, however, doesn't want to be mean and pile on here.)
Joe's actually thinking of starting a pool to pick who is the first person this spring at One Buc Palace to say that the team is overturning every rock and looking under every bed for any possible way to improve the team.
Hey, if the secondary coaches could at least develop young talent, that would at least be something. Sadly, they can't even do that.
To suggest there are no other secondary coaches in America – NFL or college – who can't get an NFL team to, oh, say No. 31 in the NFL is pass defense, or any defensive line coach in America – NFL or college – who can't squeeze, say, 23 sacks out of his unit in 16 games, basically says to a helluva lot of Bucs fans that mediocrity (or worse, abject failure) is perfectly tolerable.
Either that, or some folks over at One Buc Palace have a helluva different set of standards than a lot of winning teams. If it's a pass/fail league, then Joe knows of three defensive assistants and perhaps four that sure as hell failed.
Hey, inept Lovie Smith was run for less.
Think about this the next time you cut a check to Team Glazer for season tickets.