Halfway There At Running Back
January 17th, 2018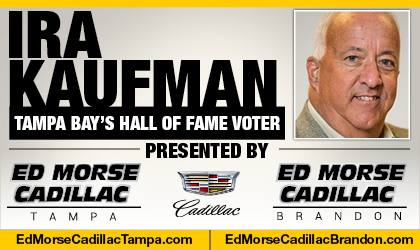 BY IRA KAUFMAN
The Bucs aren't set at running back by any means, but they shouldn't feel desperate, either.
The emergence of Peyton Barber late in the season should give this coaching staff a level of comfort heading into 2018. Barber is no Todd Gurley, Le'Veon Bell or Alvin Kamara, but he just proved he can get the job done when finally given a chance.
"Peyton exceeded a lot of people's expectations," says Ali Marpet. "Defenses hate getting pounded by a running back and this guy is so physical. He runs hard … he finishes."
That doesn't mean he's a finished product.
Barber has a long way to go in pass protection and he needs to show more skill as a receiver out of the backfield. Still, there's reason to believe he can emerge as an Earnest Graham clone this fall — and that isn't too shabby.
The Bucs signed Graham as an undrafted free agent out of Florida in 2003, but he was buried behind Michael Pittman and Cadillac Williams early in his career.
When Williams tore his patellar tendon early in the 2007 season, Graham got his chance and ran with it. He finished with 898 yards and 10 touchdowns in 13 games as the Bucs won the NFC South for the third time in six years.
Remember those days?
Braking On Barkley
In the opening playoff round, Graham was Tampa Bay's best player in a 24-14 home loss against the Giants.
Graham ran wild in the first quarter vs. the eventual Super Bowl champs and scored the game's opening touchdown before Jon Gruden inexplicably flipped the game plan — relying instead on Jeff Garcia's arm against New York's killer pass rush.
The next season, Graham split carries with Warrick Dunn, selflessly switched to fullback and still averaged 4.3 yards per carry as the Bucs soared to a 9-3 record before the December collapse that cost Gruden his job.
Some Buc fans are now clamoring for Saquon Barkley in the draft, but the Chiefs and Saints just proved once again that impact running backs can often be found beyond the first round.
And let's not forget that Barkley was held to less than 90 yards on the ground in eight of 13 games last season.
Hailed By Hogs
Doug Martin has played his final snap as a Buc and the future of Charles Sims remains uncertain. Tampa Bay's backfield will look different. No status quo there, thank goodness.
It makes sense to pair Barber with a speedy back and resurrect a running game that has stalled for two seasons.
"I can't say enough about Barber," says Donovan Smith. "He's a big back who showed us he can carry the load. The guy consistently turns 2-yard gains into 7 or 8 yards. For an offensive lineman, that's huge."
The ups and downs of Barber's 2017 season remain a mystery.  He ripped off 47 yards in 10 carries against the Bears in the opener. Barber's reward for a job well done? Two carries in the next six games as the Bucs went 1-5.
In the final five weeks, when it finally became clear to Buc coaches that Doug Martin had no burst, Barber carried 78 times for 335 yards. That's an average of 4.3 yards as Barber kept patiently following his blockers and falling forward.
No dancing in the backfield, no hitting the wrong hole. Just production.
Barber, 23, is an exclusive rights free agent and he isn't going anywhere. The Bucs need him back and he needs to show his late-season flurry was no fluke.
Peyton Barber suddenly has a lot of admirers along Tampa Bay's offensive line.
They block hard for him with confidence he'll wring out every available yard. In terms of generating an effective ground game, that's a heck of a start.
Ira Kaufman is the most revered sports personality and writer in town. He has hung his hat at JoeBucsFan.com world headquarters since July 2016. Tampa Bay's only Pro Football Hall of Fame voter, Ira busts out columns here every Monday, Wednesday and Friday, and his award winning podcasts fire Tuesdays and Thursdays. You can also hear Ira every Wednesday on SiriusXM Mad Dog Radio at 5 p.m., and see him Mondays and Fridays at 10:30 p.m. on Spectrum Sports 360.