A View Of The Bucs Defense From A Pro Bowler
January 29th, 2018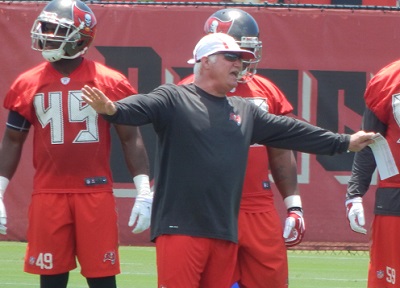 A lot of offensive linemen in this year's Pro Bowl played against the Buccaneers through the past two years.
So Joe talked to a few of them about the Bucs' inconsistent and largely woeful defense.
It kind of went like this: Joe got what resembled stock answers, the textbook cliché stuff, and then Joe turned off the recorder, asked (pleaded?) for straight answers and promised to not attribute their name to any quotes.
Joe rarely uses unattributed quotes. Joe's not a big fan of them, but in this case they are educational and worth the share.
Here was the take from one Pro Bowl offensive lineman:
"You're confident against them from the start of the week and that can make a difference collectively for an offense," he said of the Bucs defense.

"They have some playmakers who will make a play or two, but you know you can be successful against them over 60 minutes. There are other defenses like that. They don't have enough to scare you and that puts that confidence in the back of your mind through the game. [Offensive] coaches want to give that feeling to you every week, that if you play your game you can win, but you know, you don't always believe it 100 percent.

"You can play away from Gerald [McCoy] or take him out of a game for the most part and not feel like you're going to get hurt. It doesn't mean you're always going to win, and he'll do his thing, but it lets you play with more confidence and that helps you in all parts of the game, especially your quarterback. They got pieces. Maybe they just need one more guy, the right guy to make that difference on the field or in the attitude or whatever. They're not far off, but really every defense in this league can say that."
Telling stuff.
The only other nugget Joe found intriguing was one lineman who said, "I don't know what's going on over there. Gerald could use some help."
Yes, the Bucs have talent on defense. But overall the talent is lacking and there's not enough depth. And the anemic blitz success and general inconsistency speaks a lot to the coaching staff.
But as that one player above suggested, maybe the Bucs are just one "right guy" away from getting things back to where they were in the second half of the 2016 season, when the Bucs allowed an average of just 17 points per game.