"He Told Me That I Was Like Warm Piss Running Down His Leg"
January 9th, 2018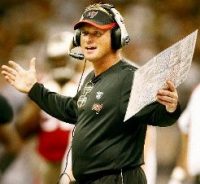 Later today, the greatest coach in Buccaneers history, Jon Gruden, will be named head coach of the Oakland Raiders.
And, joyfully, some great stories of Chucky have been coming out over the past couple of weeks.
One man with fantastic insight and history to share is Chris Simms, who spent four seasons (2003-2006) as part of Chucky's quarterbacks collection with Tampa Bay.
Chucky was notoriously hard on Simms. As the story goes, Chucky never wanted the left-handed quarterback (or any lefty QB) and had little patience for Simms' growing pains as a third-round pick in 2003.
Simms now spends his mornings working as an analyst on PFT Live, heard on NBC Sports Radio and seen on NBC Sports Network.
Last week, Simms shared the following about Chucky on the air. "He told me that I was like warm piss running down his leg."
What a Coach! Joe can only imagine how Chucky would have handled America's Quarterback, Jameis Winston, who gives the football away like it's Halloween candy.
NFL Films compiled a look at Chucky's verbal gems last week. Enjoy!