Sean Payton Says He's A Big Dirk Koetter Fan
January 24th, 2018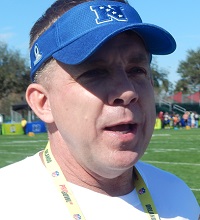 After chest-slapping, bounty-loving, grudge-holding Saints head coach Sean Payton had breakfast with Gerald McCoy, he was on the Pro Bowl practice field today coaching the NFC team.
When the Bucs last saw Payton 3 1/2 weeks ago, he was hitting Dirk Koetter in the chest after the Bucs win during an exchange that went viral. (Video here)
The two played a short game of slappys and, before running off, Payton shared with Koetter that he was still bitter about the events of the Bucs-Saints game in early November, when Mike Evans and Jameis Winston lost control on Saints Pro Bowl rookie cornerback Marshon Lattimore.
((For the record, Joe's highly confident Koetter would have kicked Payton's ass if the two went at it. Joe envisions a Mark Breland-like roundhouse right to Payton's jaw.))
Today, Payton was asked about that season-ending slapfest with Koetter, and Payton got all syrupy talking about how it's all no big deal and about how he respects Koetter after so many years together in the NFC South. Payton referenced how they even had a connection via former Bucs QB Luke McCown, who played for Koetter in Jacksonville before spending many years backing up Drew Brees in New Orleans.
It all felt a little phony, but Joe can report that Payton was very relaxed talking about Koetter and Payton did not slap Joe in the chest.