The Playcaller Will Continue As The Playcaller
January 1st, 2018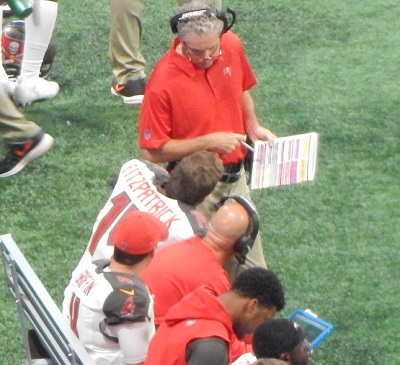 Joe's going to let you in on a secret.
Dirk Koetter never legitimately contemplated giving up playcalling a year ago, no matter what he said publicly. If you believe he did, Joe has a palm tree farm in Idaho to sell you.
Don't believe Joe? Well, it was discussed last winter on the Ira Kaufman Podcast in great detail and it's relevant today because Koetter was asked if he's considering giving up playcalling to another member of his staff.
Koetter laughed and joked in response and said there's no chance whatsoever.
Look, Koetter is a skillful playcaller who needs to improve to get the Bucs better in the red zone and to utilize his full buffet of weapons. There's a reason the Bucs have the fourth most passing yards in the NFL. There's a reason the Bucs have the ninth-most yards in the league, the second top-10 finish in three seasons with Koetter as playcaller.
Koetter had top-10 offenses in Jacksonville and Atlanta, too. That's a rare feat in NFL history.
The head coach is a playcaller with 30-plus years of experience. He considers himself a good one, certainly better than amateur fans and even professional observers. He's simply not going to give it up, nor should he.
But Koetter still must improve, and maybe that means taking more input from his assistants, or getting some fresh eyes involved in the self-scouting process, or squeezing better feedback from Jameis Winston.
The Bucs must do better putting points on the board, which is what the game is all about.
Effective scouting of the Bucs' own running backs would be a great first step, as would securing an above-average field goal kicker, in addition to getting a little more aggressive with Jameis in the red zone.