Koetter's Two Offseason Keys
January 1st, 2018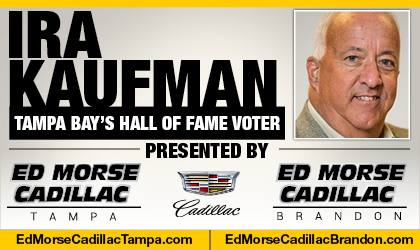 BY IRA KAUFMAN
Buc fans can only hope this franchise does a better job of addressing its priorities in 2018.
A year ago, Dirk Koetter singled out the lack of explosive plays as a major issue after a 9-7 season. In that regard, Tampa Bay zeroed in on DeSean Jackson in free agency, adding a speedy target who can stretch the field.
It didn't work out, at least in Year 1.
Jackson kept getting open deep, as planned, but the timing between receiver and quarterback was off all season. Part of the problem was Jameis Winston's sore shoulder. Part of the problem is Winston still has serious strides to make as a deep thrower.
The Bucs completed only six passes of 40 yards or more all season — and Jackson was responsible for only one of those. Two long strikes went to Mike Evans, with Adam Humphries and rookies Chris Godwin and O.J. Howard adding one apiece.
When you consider the Bucs were one of seven teams without a running play of at least 40 yards, you start to understand the challenge this offense faced in 2017.
Without big plays, you have to scratch and claw to "matriculate the ball down the field" in the immortal words of Hall of Fame coach Hank Stram. Picking up big chunks of yardage at a time helps to shorten the grind and lessens the chances for holding calls, negative runs or sacks.
Koetter went out of his way Monday to suggest Jackson's pedestrian numbers weren't his fault. Jackson did an admirable job of keeping his frustrations to himself, but he won't be as forgiving the second time around … and I don't blame him.
Bottom Third; Finishing Eagles
Koetter needs to be more creative in getting Jackson the ball in space and Winston has to be more accurate when taking shots downfield.
There seems to be two new areas of focus for the Bucs heading into this offseason — scoring more touchdowns in the red zone and finding a decent pass rush.
In 53 opportunities inside the opponent's 20-yard line, Tampa Bay reached the end zone only 26 times. That 49.1 percent rate ranked ahead of only eight teams and keeps Koetter up at night.
For some perspective, the Eagles, led by a quarterback with less experience than Winston, had two more red-zone possessions than the Bucs. The result was 10 more red-zone touchdowns.
You can't say the Bucs lack dangerous weapons inside the 20. Evans, Howard and Cameron Brate are big targets who can move and Evans has a knack for drawing a crowd of defenders.
Part of the problem is Tampa Bay's rushing woes. The Bucs scored only eight touchdowns on the ground. When you reach the shadow of the end zone, it's nice to have a back who can finish things off.
Sack Trend
Buc fans have grumbled about the lack of edge pressure for quite awhile, and nothing has changed. Mike Smith blitzed extensively because he had to, not because he wanted to.
If Jason Licht doesn't choose a defensive end with the No. 7 pick in the draft, Buc Nation will be stunned. So will Koetter and Smith, who are tired of trying to make ends meet.
Gerald McCoy won't be doing cartwheels, either. He's been waiting eight years for someone to join the sack party.
Of the NFL's top 10 finishers in team sacks, seven are preparing for postseason play. In 2015, it was eight out of 10. Coincidence?
I think not.