Ngakoue Agrees With Gerald McCoy
January 26th, 2018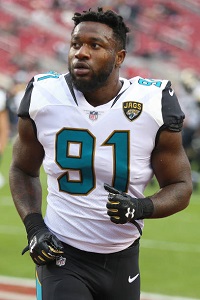 There are draft steals, and then there's a much higher level of theft. Pro Bowl Jaguars defensive end Yannick Ngakoue is one of those.
The 22-year-old has 20 sacks and 10 forced fumbles in two seasons after the Jags snatched him just 10 picks after Roberto Aguayo in the 2016 NFL Draft.
This week, Joe had a long chat with Ngakoue, who would be a household name if people knew how to pronounce it.
He said he heard the Bucs were interested in him during the draft process but he didn't meet with them at the NFL Scouting Combine or at any point, and he wasn't invited to Tampa for an official visit. In fact, only three teams invited him to their facility: Tennessee, New York and Jacksonville.
That loss aside, Ngakoue told Joe that Gerald McCoy is on the money about his assessment of the Jaguars' fast and radical change.
Joe asked McCoy this week what he learned most from watching this seasons playoffs. In addition to saying, "never bet against Tom Brady," McCoy was adamant that the playoff Jaguars were nothing resembling the team the Bucs had two practices against in August, along with a preseason game.
"He's right," Ngakoue said of McCoy. "We were still trying to figure out our new identity and our culture when the Bucs were with us. That was a fast process overall when you look back on it, but it didn't feel that way when you're in it. People can see the change. We got a new standard in that building, and it starts with that new standard, and we got the guys to move it forward."
Ngakoue added that the new culture and identity in Jacksonville was fully cemented in Week 1 when the team had a complete 29-7 win at Houston. He said despite a blowout loss in Week 2, nothing had altered the new direction and focus.
McCoy said the lesson from the Jaguars and the playoffs was clear.
"What I learned is to trust the process. Keep working. Do things the right way and things will work out," McCoy said. "Man, if everybody comes to do their job and have the right mentality, anything can happen, man. Jacksonville was a few minutes from being in the Super Bowl."