Addressing The Lavonte David Decline
January 26th, 2018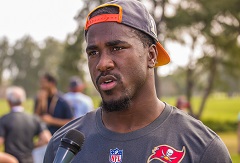 Joe wrote about this a bit during the 2016 season and fans freaked out.
And here we are again. Caution, if you like your head in the sand, Joe recommends you stop reading.
Guess who had zero sacks and just one official pass defensed in 2017. That's right, Lavonte David.
In years past, David was lauded regularly for being a ferocious and successful blitzer, as well as for being the prototype three-down linebacker — stout in coverage and against the run.
So what the hell happened this year?
This is priority No. 1 for Mike Smith, or it should be. Get the most out of your stars.
There is a divide at JoeBucsFan.com world headquarters. The Joe typing this is sick and tired of hearing about how great the Bucs linebackers are. Their blitzing and pass coverage skills declined. How the heck do David and Kwon Alexander go sackless for the season? Some of that is on them.
David did a great job forcing five fumbles this year, but his overall production tailed off considerably.
Yes, David had a nasty ankle sprain in Week 2. What the effect of that was is unclear, but he sure looked healthy soon after his return. Last year, David battled multiple nagging injuries and supposedly wasn't himself until very late in the season.
Is it fair to call him injury-prone?
Now 28 years old, David hits a crossroads, in a year in which he will gobble up $8.75 million of Team Glazer loot.
Dirk Koetter said repeatedly this year that linebacker was the most consistent Bucs unit, with tight end right there with them. Well, consistent is nice and important. But there simply has to be more production from David. Joe's not advocating dumping David, but if he's going to stick around for big money, he's got to deliver.