Kwon Will Cut Back Mike Smith Meeting Ritual
January 27th, 2018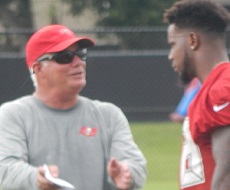 It's Year 3 of Mike Smith commanding the Buccaneers defense.
One hallmark of his reign (of terror?) was regular early-morning study sessions — extra time — with middle linebacker and defensive playcaller Kwon Alexander.
There's just not a need for those any longer, Kwon told Joe after a Pro Bowl practice this week.
Kwon says he's matured and soaked up enough where daily extra work with Smith 1-on-1 isn't necessary.
"You know, I'm kinda getting older now, so some of the stuff I didn't know, I know now. I can help the other younger guys," Kwon said. "Whenever I need help, I'll go up and see [Coach Smith]  and I can relate it to the other guys. Me and Mike are good. I'll always go up and see him during the week, but it won't be the same kind of meetings."
Joe thinks this is a good thing. Perhaps Smith will have more time to invest now to figure out why his endless blitzes didn't get home — sackless season for Kwon and Lavonte David — and why his linebackers had steep drops in tackles for loss last season, among other defensive issues.