Michael Bennett Talks Tampa Return, Film Study and Diet
January 27th, 2018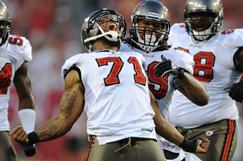 After nine sacks for Tampa Bay in 2012, and finishing fifth in the NFL that season in tackles for loss with 18, 27-year-old Michael Bennett was allowed to walk out of One Buc Palace for no good reason.
The rest is impressive history — Seahawks history.
Bennett has missed just five games through the last five seasons and has earned many accolades along the way, including a Super Bowl ring.
Dude is a stud, one of the most dangerous and versatile defensive ends in the NFL, even if he is prone to wacky and controversial behavior.
Bennett said after this season that he was unsure Seattle would keep him and his contract.
Enter Gerald McCoy, who has been campaigning loudly for his friend and former teammate since Bennett expressed skepticism about his Seattle future.
McCoy jacked that up to Joe this week, and Bennett piled on with Rock Riley, afternoon host on 1040 AM (Tampa) and 1080 AM (Orlando). Rock was at Pro Bowl practice Friday at Disney World, just west of Orlando.
"If anything ever happened with Seattle, I mean Tampa would be like an ideal to go back and get a chance to win a championship with those guys," Bennett said. "But right now I'm a Seahawk, so. But it's always cool to have your old teammates want you to back on the team because it means you made a really good impression on them and you're really good friends."
Rock asked Bennett how he's been able to stay so productive and at the top of his game.
"I think it's just the nutrition and the diet and just keep staying in shape," Bennett said. "I think just take care of your body and being a student of the game. I think I watch so much film I'm able to dissect plays before it happens."
Yes, Joe knows there are plenty of fans who don't like Bennett's political commentary and his some of his past behavior with law enforcement, and his pet-care ethics. But Joe can't find a mug shot of Bennett online, nor can Joe find him being accused of mistreating a woman. However, Joe can find the gaping holes the Bucs have along the defensive line.