Kwon Ends The Season With A Bang & $32,000
January 28th, 2018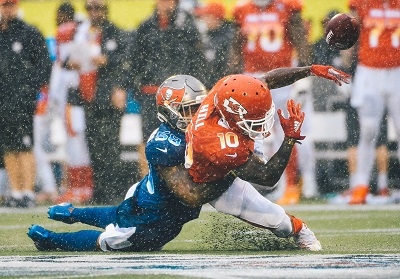 Leave it to Kwon Alexander to defy the unwritten rules of the Pro Bowl.
This afternoon in soggy Orlando, mighty 23-year-old Kwon, playing middle linebacker for the NFC, drilled Colts tight end Jack Doyle in the first quarter.
You're sort of not supposed to do that in the Pro Bowl, where the hitting usually kicks in during the third and fourth quarters, when players get serious because the NFL payout to guys on winning teams is double the losers' share.
Kwon's hit got the crowd jacked up but he drew what appeared to be harsh words from a few AFC offensive players.
Soon after, a handful of seconds into the second quarter, Kwon drilled AFC returner Tyreek Hill while sprinting down the field on punt coverage in a driving rain storm. Hill fumbled and Kwon continued to set a no-prisoners tone. (See photo above and video below.)
Thankfully, Kwon came out of the game injury-free. He also led the losing NFC team in tackles and pocketed the losers share, $32,000.
Joe hopes Kwon's teammates paid attention. One can only hope they follow Kwon's example. That might be the fastest way for the Bucs to become the "badass" team Dirk Koetter desires.
KWON!! #ProBowl pic.twitter.com/opIVYkPh5l

— Tampa Bay Buccaneers (@TBBuccaneers) January 28, 2018