"I Thought It Was A Waste"
January 16th, 2018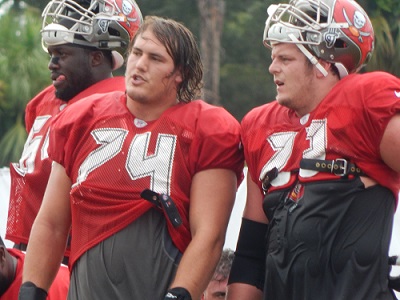 The great experiment of 2017 didn't work, says a prominent former Buccaneer.
And he wasn't talking about the Hail Mary call that banked on Doug Martin to beat long odds and run like it was 2015.
Joe's referring to former Bucs starting guard Ian Beckles (1990-1996). The South Tampa socialite and local 102.5 FM host also has a podcast, In The Trenches, in which he talks only football each week.
On Monday, Beckles was asked what he thought of this season's controversial relocation of Ali Marpet from high-caliber right guard to center.
"Failure," Beckles replied.

"It was a failure. We didn't get better at anything. What did we get better at doing? I mean, to me, I thought we were unathletic at guard. And I thought Ali Marpet was the best chance we had to be athletic. Ali Marpet's kind of wasted at center. I thought it was a waste. I think Marpet and [Demar] Dotson work well together. And I see Demar every once in a while; he didn't really understand the whole thing. Sweezy, it didn't work with Sweezy, that's for sure.

"I would put the kid [Marpet] back. You can get away with a half-assed center sometimes, but when you have a half-assed guard, that's a lot of stuff going on there. Seriously."
Hard words from Beckles. So what next for the Bucs' offensive line?
Will veteran Dotson get a return call at right tackle after missing 18 games through the past three seasons? He's in line to cash in on just over $4.5 million in 2018.
Sweezy? Well, he turns 29 soon and he did not look like the player the Bucs expected when he was signed for massive cash in March of 2016.
Marpet? Can anyone really say he was better at center than at guard?
The job-sharing at left guard among Kevin Pamphile and Evan Smith was a head-scratcher through much of the season. Did Pamphile do enough there to get a new contract after Marpet was lost for the season?
Donovan Smith was a rock at left tackle and is coming off a strong close to last season. So no worries there (unless you're among the large group of Bucs fans who think Smith is brutal).
Like with the coaching staff, Joe largely expects the status quo.