Highlighting Kick Return Woes
January 15th, 2018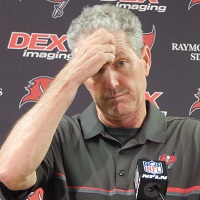 Interesting set of numbers flowing from One Buc Palace.
Specifically, they were dug up and typed by team reporter Scott Smith.
The numbers revolve around kickoffs, and the Bucs were the worst in the NFL at forcing touchbacks. It's a stat that could spell goodbye for Patrick Murray.
Dirk Koetter already lobbed a public finger wag at Murray for his poor hang time and it's not like Murray was a special field goal kicker. After a good start on field goals, Murray fell back to average by league standards and weak on kicks of 50-plus yards.
On the flip side, the Bucs' failures to force touchbacks was magnified by the two kickoffs taken to the house on them in the final two games. Also, Bucs returners had the highest percentage of touchbacks in the NFL (74.7 percent), per Smith. The latter has a lot to do with Dirk Koetter having little interest in gambling on returning kicks. Koetter is happy to take a knee and get the offense started.
On the Bucs' long list of areas in need of improvement, forcing touchbacks surely is not the highest priority, though one could make the case that the lack of a booming kickoff artist cost them at least one victory.
And as for signing an electric returner, well, Joe's thrown in the towel on that fantasy.