Do The Bucs Need "Magic?"
January 15th, 2018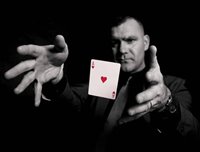 As much as Joe wants to look at things from a glass-is-half-full angle, it's hard to think otherwise.
Yeah, the Bucs lost a lot of close games, true. But watching the playoffs this past weekend, and looking at the holes on their roster — three massive craters — it's difficult to see the Bucs in the postseason this time next year.
The Bucs desperately need an edge rusher, a corner and a running back. And Jenna Laine of ESPN seems to think the Bucs might need a magic trick to get the running back.
The Bucs chose to stick by Doug Martin despite his four-game suspension and admission into a drug treatment program. Martin failed to produce, averaging just 3.0 yards per carry, was benched for one game for violating an unspecified team rule and wound up being overtaken by Peyton Barber. Rookies Leonard Fournette, Alvin Kamara and Kareem Hunt dramatically changed their teams' offenses this year, and the Bucs need that type of magic.
Generally, a good running back can be easily had in the draft, provided the folks at One Buc Palace have come to the conclusion Doug Martin is done.
However, finding a competent if not dangerous defensive end and a strong cover corner is a bit more complex than showing up to a Sam's Club liquidation sale in south Tampa.