The Fans Respond To JoeBucsFan.com
January 3rd, 2018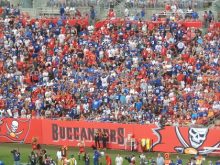 Much like at One Buc Palace, JoeBucsFan.com world headquarters is a place with lofty aspirations.
Unlike at One Buc Palace, those goals are typically met inside the beer-stained walls of JoeBucsFan headquarters, where Tums, broken beer bottles and spoiled beets line the tile floors.
Joe had a simple goal through the 2017 calendar year: 1 million unique visitors to JoeBucsFan.com visiting a total of 7 million times and viewing 17 million pages of content.
Sadly, Joe missed on two of those numbers.
The 17 million pages viewed mark was eclipsed, but Joe only registered 972,428 unique visitors who made about 6.5 million total visits.
Joe loves all the support from fans, but be certain that Joe is not taking this failure lightly. Heads are rolling. There will be changes to playcalling. Processes and personnel are being evaluated. Spending is coming in the free agent market and Derrick Brooks has been extended an offer to right the ship.
A lost Buccaneers season marked by regression, tolerance of ineptitude and shattered hopes is no excuse. There are no near victories or moral triumphs at JoeBucsFan world headquarters, only losses that demand immediate accountability.
On the upside, Joe continues to dominate the market for Bucs coverage and eyeballs. And the podcast network easily pushed 2 million downloads and delivered for its advertisers this year, much to the dismay of local sports radio executives.
Joe is grateful for all the support and is energized by the challenge of hitting bigger 2018 goals, despite a deflated fan base that's been forced to swallow too many losses, ticket price increases and the shame of a 10-year postseason absence.
Among other initiatives, Joe will team again with The Commish (@commishonline) to galvanize fans on Training Camp Takeover Day, to remind the Bucs organization that a rabid fan base is aching to unify around a good team — or a team that is willing to work with those fans beyond handshakes and token gestures.
Again, Joe thanks you for your patronage.
And to those who hurl a daily diet of insults at Joe via email, site comments and Twitter, well, Joe appreciates your misguided and naughty passion.