"We Screwed Ourselves"
January 28th, 2018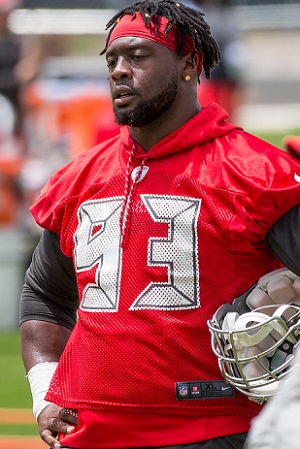 Gerald McCoy delivered quite a well versed and reasoned take on the 2017 season this week as he prepared to play in this afternoon's Pro Bowl in Orlando.
McCoy talked about some hard truths. And in a way, they might bring comfort to optimistic Bucs fans, which can be hard to find these days.
"As far as the season goes, man, we screwed ourselves," McCoy said. "Just being honest.

"You can point to defense, you can point to offense, you can point to coaching. you can point so many different places. You can point to injuries. There's a lot of different excuses we can make, but I'm not going to make any of them. I'm going to say we screwed ourselves.

"We had all the players we needed. Potential means nothing. People say, 'Oh, so much potential.' That means nothing. You gotta go out there and make that potential a reality and we didn't. We beat ourselves so many times. We had teams beat and we would screw ourselves with penalties, or a turnover, or the defense would need one stop. We stop'em all game and need one stop to win the game and we can't stop'em. We just screwed ourselves. And that really was the epitome of what the season was. I'm just really excited that we finished our last game with a win at home. That's always great to go into the offseason, even though your season wasn't what it should have been."
Yes, the Bucs have many deficiencies and problems that McCoy did not address here. But they still remained a team that was one late stop from victory in Buffalo and in Carolina. And there was the ugly collapse in Green Bay that led to an overtime loss, and the Nick Folk crap show on shoulda-beat-the-Patriots night.
Being very close, unfortunately, doesn't count. Every bad NFL team can't point to a few tight losses. Heck, the 2013 Bucs lost their first two games by a combined total of three points. Lavonte David blew the first one with a few seconds remaining, and the officials stole the second one. A little luck there and Bucs history probably looks a lot different.
Were the 2017 Bucs close to being a good team? No.
But it feels that way to a lot of players and management. Hopefully that that mindset won't be this team's 2018 downfall.