The Bucs & Fourth-Quarter Playcalling
January 8th, 2018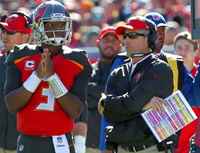 Interesting stuff from quarterback turned analyst Tony Romo yesterday during the throwback playoff game of the day.
Forty years ago, half the NFL teams scored less than 20 points per game. The Bills' Joe Ferguson led the league in passing, averaging just 200.2 yards per game. Defenses played to injure offensive, and the rules let them do it.
That stuff, of course, is ancient history, except in Jacksonville, which has revived old school football brilliantly.
Romo called yesterday's 10-3 Jaguars playoff victory against Buffalo. In the fourth quarter, he talked about the woeful stats of the Bills' fourth-quarter offense over the past six games, just three points total.
Romo said the fourth-quarter failure is a common byproduct of defensive coordinators catching up.
"What happens in the NFL, teams start to understand your system and what you're trying to do," Romo said. "And in the fourth quarter, you're going to your core plays. It's not new plays each week. It's the stuff that's who you are and what you do well. So the defenses get a bead on it."
This really intrigued Joe because the Bucs' fourth-quarter offense was fantastic nearly all season long, culminating in 18 fourth-quarter points a week ago against the Saints.
So that's tough to wrap your head around given Romo's theory, which makes a lot of sense.
But Tampa Bay averaged less than nine points in the first halves of games this season. That's inexcusable, and if you boil down the Bucs' woes, that's where Joe would start looking for fixes first — easy fixes.
The talent is there to start faster and score. It's squarely on the playcaller and America's Quarterback, Jameis Winston, to find a way. If you consistently can do it late, then you can do it early, too.