The Bucs & DeShawn Shead
January 21st, 2018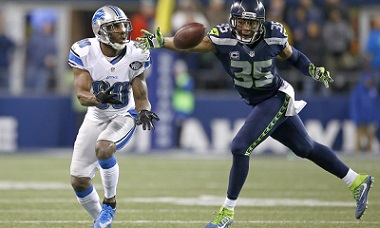 Your Bucs need help at cornerback and the need could be dire in a matter of weeks.
Forget for a minute that Tampa Bay had the NFL's 32nd-ranked defense. (Hey, at least try. It can be healing.)
Old man Brent Grimes is their best corner buy a wide margin and he could retire or demand a massive payday in free agency. Vernon Hargreaves, at 22 years old, was benched by a defensive coaching staff that just got passing grades for its stellar work last season. Surely, they're not banking on Hargreaves being more than a No. 3 corner. Right?
Versatile journeyman Robert McClain turns 30 this summer and might have had a career year (three interceptions) last season. He'll be an unrestricted free agent and Tampa Bay might actually have to bid to retain him.
Ryan Smith? He tries real hard but he has a long, long way to go.
Yes, the Bucs need more depth and quality at cornerback. Joe's been eyeballing Seahawks pending free agent corner DeShawn Shead, who appears ready to hit the market, per his Instagram musings.
In 2016, Shead, 29, was a 15-game starter but blew his knee out in the playoffs. His comeback after ACL surgery this season didn't come until Week 16 when he was taken off the physically unable to perform list. Shead played special teams for two games without a hitch.
Seahawks coach Pete Carroll has been over the top with his love for Shead through the years.
This was a quote from The News Tribune just after his injury.
"I thought he had a very, very good year. He was challenged a ton. Being on the other side of [Richard] Sherman can wear anybody out and he hung in there tough throughout the season, made a considerable amount of plays and all that. He's a terrific team guy so if he is not available, we're going to really miss him but we've got to go for it with the other guys."
Undrafted in 2012, Shead caught on with Seattle, earned a Super Bowl ring and played in every game of the 2014 and 2015 season, making six starts over those two years before getting the full starting nod in '16.
General manager Jason Licht seems to have a thing for Seahawks free agents, so maybe Shead will catch his eye. And it's always a good thing when a guy comes from legit team.
Joe generally really likes the hungry, undrafted guys who have grinded their way through an NFL career. However, Joe was scarred a bit by the Chris "Swaggy" Baker experience. Regardless, Shead certainly would help.