Draft Advice For Jason Licht
January 15th, 2018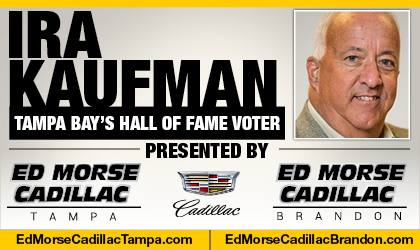 BY IRA KAUFMAN
It's one of the great sound bites in NFL history and Herm Edwards is still asked about it more than 15 years later.
"You play to win the game," Edwards bellowed that day as head coach of the New York Jets, reminding the media of Job 1.
Here's my contribution, and I'm sure Herm would be proud:
"You draft to win your division."
Simple. Direct. Profound.
So how about it, Mr. Licht?
When that incredible Vikings-Saints game ended in dramatic fashion Sunday evening, I kept thinking about Drew Brees.
He walked off the field on the losing side, but he deserved so much better. He had just shredded the NFL's premier defense in the second half while New Orleans rallied from a 17-0 deficit on the road.
He deserved a date next week in Philadelphia with a Super Bowl berth on the line because he's that good. And by the way, he's not going anywhere.
After the game, Brees sent a message to New Orleans fans on Twitter.
"I love you Who Dat Nation," Brees said. "And I love our team. We are destined for great things."
Clear Picture
Brees will return this fall to challenge a Bucs defense that just allowed the most yards in the league. He will be seeking to pad his 16-9 career record against Tampa Bay, which includes 48 touchdown throws and a 95.8 passer rating.
Brees has never won the league MVP award, which is surprising because he's been so great for so long. Once in awhile, the Bucs can make him look rather ordinary, but don't bet on it. Far more often, he scares the heck out of anyone in pewter. The Bucs have sacked him only 33 times in those 25 games and if you don't move Brees off his spot, he's going to carve you up.
That's what happened Sunday when the Saints committed more resources toward blocking Pro Bowl defensive end Everson Griffin, who had been hounding Brees.
Brees isn't the only Buc-killer in the NFC South.
Matt Ryan and Cam Newton just happen to reign as the past two league MVPs while representing the NFC in the Super Bowl.
Ryan is 13-7 against the Bucs, with 30 TD passes and a 95.5 QB rating.
He has been sacked only 29 times in those 20 starts.
Newton is 8-3 vs. Tampa Bay, with 16 TD throws and a 93.3 rating.
You get the picture, and it's high time the decision makers at One Buc Place understand this dynamic.
Quadruple Dipping
You draft to win your division.
Free agency can help, at times, but when it comes to impact pass rushers, this year's crop of available linemen is thin gruel.
Tampa Bay's defensive line hasn't been nearly good enough to compete against the quarterbacks in this division. It's not nearly good enough in comparison to the fronts of Jacksonville, Philadelphia and Minnesota.
The other team left standing, New England, has Tom Brady, who makes up for a lot of weaknesses.
The Bucs don't have Tom Brady.
They have Jameis Winston, who is still learning what it takes to be a franchise quarterback. Brees is coming back, Newton is in his prime and Ryan remains hungry and dangerous.
For the 5-11 Bucs, hunting season has already begun. They need to find a pass-rushing stud.
Then they need to find a few more.
Ira Kaufman is the most revered sports personality and writer in town. He has hung his hat at JoeBucsFan.com world headquarters since July 2016. Tampa Bay's only Pro Football Hall of Fame voter, Ira busts out columns here every Monday, Wednesday and Friday, and his award winning podcasts fire Tuesdays and Thursdays. You can also hear Ira every Wednesday on SiriusXM Mad Dog Radio at 5 p.m., and see him Mondays and Fridays at 10:30 p.m. on Spectrum Sports 360.