Triumphant Return
December 24th, 2017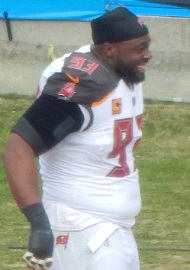 Simply stated, Gerald McCoy is a one-man band on the Buccaneers defensive line.
Today, he was a one-armed bandit.
McCoy is playing with a significant biceps issue. It kept him out last week and he gutted it out today with some sort of support sleeve on.
In the first quarter, McCoy dropped the Buccaneers equivalent of Sasquatch on Cam Newton: a sack. And it was all McCoy. His spin move wasn't perfect but it got him a little daylight and Newton could not escape. It was a huge play on 3rd-and-4 and it seemed to knock all the air out of the Panthers offense for the rest of the first half.
Late in the third quarter on a key Panthers 3rd-and-2 in the red zone, it was McCoy's rush up the gut that led to an incompletion and putting Newton on the ground.
McCoy's fresh legs and talent were difference-makers today, though not enough to win. And that's why the Bucs pay him the big bucks.
Can somebody please sign some defensive line talent to help McCoy. Please! Please!
Pro Bowler @Geraldini93 takes down Cam! pic.twitter.com/vLudEdLNsp

— Tampa Bay Buccaneers (@TBBuccaneers) December 24, 2017