"Too Much Time"
December 27th, 2017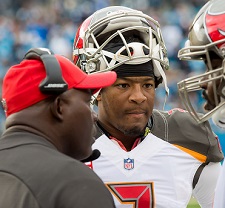 That quote in the headline? Tampa Bay icon Ronde Barber barked it out during the Bucs-Panthers broadcast Sunday.
Perhaps Barber was doing the ol' internal stopwatch test.
Barber was watching the first critical fumble by America's Quarterback, Jameis Winston, on Tampa Bay's opening drive. Jameis held the ball for four seconds (based on Joe's multiple reviews) and drifted toward the pass rush and then stepped into it.
It was a rookie move. Right tackle Caleb Benenoch held off his man but that broke down after a few seconds.
"Too much time!" Barber said.
Yes, the fumble was all on Jameis, per Barber, as was the Jameis' fumbled snap later. Barber called it a perfect snap and Jameis' hands weren't open.
All correctable stuff from Jameis. But why hasn't it been corrected yet? Why is Jameis leading the NFL this season in fumbles in limited action, after being tied for third in the NFL in fumbles last year but having good ball security as a rookie (though he had a lot of picks in his first year)?
Why isn't Jameis putting together a complete ball security game after 45 starts?
Even if it is all on Jameis and not coaching, Joe thinks Jameis certainly would benefit from a new voice, a new QB coach in his ear every day. Maybe that will make a difference.