The Morning After
December 19th, 2017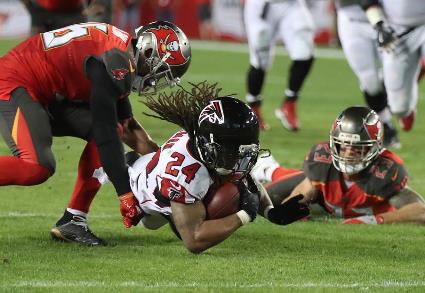 Joe is typing this at 4:35 a.m. — still banging away at a keyboard from the Monday night loss to the Dixie Chicks. Yay, caffeine.
1. Nine seconds: Yeah, the Bucs missed a 54-yard field goal as time ran out. It would have put the game in overtime. If the Bucs only had a few seconds more. Time was ticking down. America's Quarterback, Pro Bowler Jameis Winston, hit Cam Brate on a short pass to the left side for 11 yards to get the ball to the Atlanta-36. Then, as the referee was about to place the ball with the clock running, he fell. That ate up too much time, Bucs coach Dirk Koetter said. Had there been, say, nine seconds on the clock, Koetter said he would have run another play to try to set up kicker Patrick Murray with a potentially shorter attempt. When Koetter saw the ref fall, he knew the clock had to be stopped and he began yelling for Jameis to spike the ball, not knowing if the communication system between coach and quarterback was still open. Jameis spiked the ball with six seconds left. With so little time, Koetter had no choice he felt but to try the kick.
2. Quieting the Rabble: At least for a week, the Jameis haters should be quieted. No, Jameis wasn't having a great season even though Joe didn't think he was playing that awfully (when not hurt) if you overlook the fumbles, which are a great concern. Joe has strongly sensed a large, vocal group of Bucs fans wanted Jameis cut on Sunday. But after putting up 299 yards and three touchdowns with no picks, connecting on 27 of 35 attempts against the Falcons last night, perhaps now folks understand why the team is behind Jameis. Maybe the haters can start throwing empty beer bottles at more predictable targets: Gerald McCoy and the offensive line?
3. Return of Kwon? Kwon Alexander had a monster 13 tackles last night. Alexander hasn't had the best of seasons either. But with the linebackers corps so good and so deep, it was easy to ignore Alexander having a down year. It all started with a pulled hammy in preseason. Maybe it has taken Alexander this long to fully recover from that hammy?
4. Calling out Ian Rapoport: In his postgame remarks, Jameis didn't have to mention NFL Network uber insider Ian Rapoport, but Jameis nonetheless fired off some emotional shots at Rapoport and they showed Jameis indirectly believes Rapoport is either trying to submarine Koetter or flat-out Pearl Harbor the Bucs. "We love our head coach. Our head coach sets our morals. His main thing is [to] compete. You can see it through every one of those guys in there. Every time he steps up in a meeting and he puts a slideshow up of what our objective [is], 'Passion, competitiveness [and] mental toughness.' He's instilled that in us. Some of the guys have it themselves, but we've got a coach, when you're trying to lead men – these are men who have families, some don't, but when you've got a guy who comes back to work consistently like him – that's why I love my coach and that's why I was so disturbed that someone would try to bring up something to distract us. That just adds fuel to our fire in a way because we've got so much respect for our coaches – not just Coach [Dirk] Koetter, but for our coaches on this team because they work their [butts] off. I just hate for them that the results of our play or the season is on them. Quite frankly it's on the players. It's us. We've got to play. Coaches just coach."
5. Don't Hang Doug Martin Out To Dry: Joe wrote this earlier this morning, but if the whispers murmured aound the Den of Depression last night are true surrounding placing Doug Martin on the inactive list for a minor violation of team rules, then the Bucs need to be up front about it. Koetter would not discuss it at his press conference. Without bringing this alleged minor issue to light in detail, it invites speculation of what happened the last time Martin was a healthy scratch: He was popped in a whiz quiz to have taken a banned substance. If Martin's issue was minor, no need to shroud it. Leaving Martin to twist in the wind of public gossip and rampant speculation is not fair to Martin and makes the Bucs as an organization look bad.