Fans Punted On Chucky Chants And Pleading
December 19th, 2017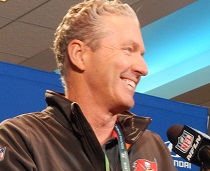 The stage was set last night. Your Bucs were trailing by 10 points at halftine and giving their typical garbage first-half performance with seven points, just one point below their season average in first halves.
(That's the story of the season right there, by the way: brutal starts and trailing early.)
Chucky was coming out to the field with his family, friends and iconic Buccaneers and all members of Team Glazer to be inducted into the Ring of Honor.
Allegedly, fans (at least 20,000 or so) were going to be screaming their heads off in unison for a Chucky return to coach the Buccaneers. They could sing their burning desires — or wave endless homemade banners — to the ESPN cameras and ownership.
They punted.
Safe to say there was no real buzz for Chucky to replace Dirk Koetter. It didn't register on any kind of significant scale.
It seems the Hire Gruden mania from many corners of Bucs fandom was all bark with little bite.
Interesting.
You won't find Joe lobbying for a Chucky return, though Joe might consider a new head coach for 2018. Two games to go.