"We're Planning On Playing A Lot Better Than We Did The Last Time"
December 14th, 2017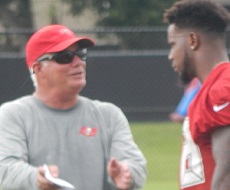 Mike Smith may be the Tampa Bay version of dead coach walking, but he still has a pulse, as well as a unique opportunity before him.
NFL scheduling gurus have forced intense chess matches across the league for at least the past two seasons. The idea is for teams to play division rivals late in the year.
In the case of the Bucs, they face Atlanta on Monday night in Tampa after facing them on Thanksgiving weekend.
That means Smith intimately knows the Falcons offense the way it's playing right now. The film is fresh (so is the humiliation). Atlanta rolled up 516 yards and converted a galling 11-of-14 on third down against the Bucs. Julio Jones notched 253 yards and two touchdowns.
So can Smith adjust with the advantage of recently seeing the Falcons? That's exactly what he's paid to do.
Of course, the Falcons have the advantage of knowing the Tampa Bay defense (what defense?).
"We're planning on playing a lot better than we did the last time," Smith said today.
Well, that's comforting.
Smith now faces three NFC South foes in a row. If he's any good at his job, we'll see effective adjustments starting Monday night.