Is Peyton Barber An Every-Down Back?
December 27th, 2017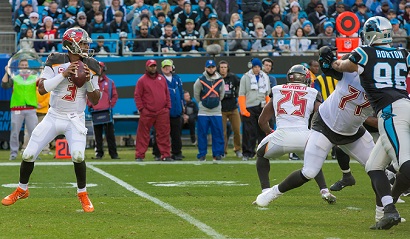 Entering this season, there was fear at One Buc Palace — fear of Peyton Barber blocking for America's Quarterback, Jameis Winston.
Barber came into the NFL as a raw blocker last year undrafted out of Auburn.
He made the team and developed at running back without getting much of a shot.
Finally, the Bucs backed off the Doug Martin calamity a bit and Barber has been the primary ball carrier the last four games. It's no surprise the offense has picked up at the same time, as Barber has been successful carrying the rock, and he has 10 catches on 10 targets.
Today, Joe asked Dirk Koetter about the evolution of Barber's pass blocking, which looks pretty solid.
"He was coming from a long ways away. I mean where he came from coming out of college, just I'm talking about as a pass blocker," Koetter said. "He had a long way to go. And just the variety of protections, it's never been about him stepping up and smacking his guy, it's knowing the adjustments out of all the different protections. No. 1, that takes time. It takes studying. And No. 2, it takes experience. It takes getting your chance and getting out there. So, he's come quite a ways, still has a little bit more to go to be, you know, with the best of them. But he's making progress to the point where we're good having him out there."
How bout that! A young player developing and taking over the reins at running back.
It's a big game for Barber on Sunday, as it is for a pile of young Bucs who need to prove they deserve a significant role here next year.