Drew Brees Endorses Chucky
December 27th, 2017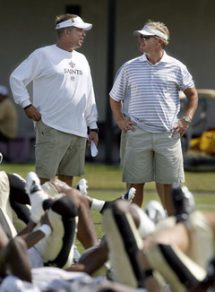 Over the years, Chucky has hung out at Saints practices and, obviously, has sat down with Saints coaches and players in preparation for Monday Night Football broadcasts.
That means he's spent his share of time with future Hall of Fame Saints quarterback Drew Brees.
Joe advised Brees today of the rumors of Chucky returning to coach in the NFL this season. And Joe asked Brees if he's picked up anything in those TV production meetings this year that leads him to believe Chucky wants back into coaching now.
"Listen, I think he's as knowledgeable and as talented a guy as there is and as passionate a guy as there is when it comes to the NFL game," Brees said. "You can feel that when you watch a broadcast or you spend any time with him off the field like I have. You know, he's got a great history with Sean Payton. He gave Sean Payton his first job with the Eagles back in [1997]. So I don't know, if he chooses to coach again, then I'm sure he would do a great job. But I think he does a great job in the booth, as well."
Hey, Joe had to ask. You never know what Brees, who loves to chat, might have said.
Chucky is quite an enigma. It's so rare for a guy who loves coaching so much — or any profession — to essentially walk away from the craft at 45 years old. Imagine a renowned college biology professor who tells everyone he loves teaching  more than life, but then he gets fired and works for CNN as a science expert — while still saying he misses and loves coaching.
If Chucky coaches again, whoever hires him really better be sure Chucky is committed to coaching for the long term.