No Decision On Gruden
December 24th, 2017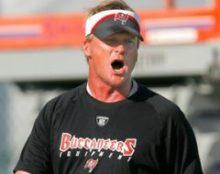 One of Joe's missions in Charlotte this weekend was to get as much information as possible about the Buccaneers' head coaching situation.
Joe talked to various people off the record connected to the situation in various ways, and Joe has reached a conclusion.
No decision on Dirk Koetter's future, or Jon Gruden's, has been made by Team Glazer.
While sniffing around, Joe heard everything from Chucky wants to be the highest paid coach in the NFL and has let it be known that he would demand full control of personnel on his next NFL stop.
Joe's also heard that Team Glazer is committed to exploring all options, and that includes seeing how the Bucs finish this season. Everything is on the table.
As far as general manager Jason Licht's future, Joe was told that the NFL landscape has been good to Licht. Several teams have filled, or are in the process of filling, general manager vacancies this season. The thinning herd helps Licht, as does the continued success of his 2015 and 2017 draft class.
Joe wishes there was more that could be shared, but that's the available juice.
Hold on to your hats for a wild week, at least.