"Neither One Was A Drop"
December 1st, 2017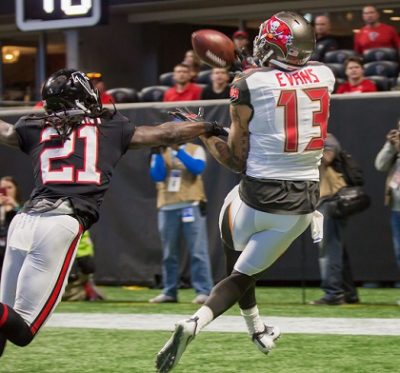 Regarding Mike Evans getting hammered by fans and media for two alleged "drops" in the end zone against the Falcons in Atlanta, Joe asked receivers coach/offensive coordinator to evaluate those exact plays yesterday.
Monken said they were not drops, but he detailed why Evans could have had a better shot at the first one (shown in the JoeBucsFan.com photo above).
"The first conversion he had – and when I'm saying conversion, it was his fade route – I thought he did a poor job of holding his line," Monken said. "He knows this in terms of the defender, keeping it on your hip and letting the ball fade you. I thought he drifted too far and allowed the defender to come underneath [him]. Then when the ball is inside, it's much easier for the defender to make a play on it. On the second one, I thought he got grabbed a little bit by the linebacker and then the ball [was] coming. Could he have stepped another yard back? [Yes], but it was kind of a bang-bang play. Neither one was a drop, but definitely the first one I think by technique we could've given ourselves a better shot at it right out of the gate in getting a touchdown."
Football always has been and always will be about the little details.
Candid stuff by Monken, and Joe wonders how the growing haters of 24-year-old Evans will respond.