The Aura Of Lambeau Field
December 1st, 2017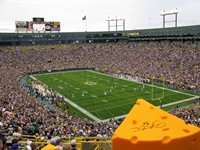 Joe will scratch off a bucket list item this weekend.
Even though "this Joe" is from Illinois, he had never stepped foot in Minnesota before this season, and this weekend only will be Joe's second visit to Cheeseland, Wisconsin. Roughly 20 miles north of the Illinois-Wisconsin border had been Joe's greatest northern journey and Saturday it will be farther north to Green Bay.
Joe has heard how neat Lambeau Field and everything around it is. It seemed Bucs coach Dirk Koetter is a big fan of Lambeau when he recounted his two previous visits to the NFL cathedral yesterday.
"The first time I went there was for a preseason game and I think every single person in the crowd had a Green Bay Packers jersey on," Koetter remembered. "I'd never seen anything like it. It was a summer night. It was in August and I'd never seen anything like that where it was that high volume of Packers jerseys.

"Then we went another time when it was in December like this and before the game the field was covered. They had the blowers going. [It was] horrible weather. You couldn't even see. It was snowing. The second those gates opened, there was people in those seats two hours before game time. It's with complete snowmobile gear, fans sitting there like it was nothing with the weather. [It is] a very cool place to play."
Joe isn't sure how many readers have ever been there, but if you have, please feel free to share a story. It just seems like a wonderful place to watch a game.
Wonder what would happen if DeSean Jackson caught a touchdown from America's Quarterback, Pro Bowler Jameis Winston, and did a Lambeau Leap? Would the cheeseheads give him a beer or throw it on him? Joe's guessing they would give him a beer.
Just a hunch but that "Go Pack, Go!" jingle will be ringing in Joe's ears all Sunday night. At least the weather doesn't look too awful. Sunday's highs should be push 50 with no precipitation. Man, 49 degrees in December in Green Bay, Joe's guessing folks will be walking around in shorts.
Maybe one of these years Joe will have to go up there as a fan to experience the tailgate scene.