Moving The Chains With The Best
December 28th, 2017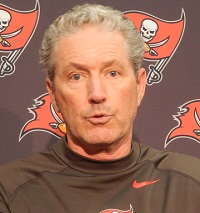 Dirk Koetter's offense moves the football extremely well.
New data released by the ESPN data geeks backs it up. 
And there are even more powerful numbers to share.
Check out the ESPN chart below. The Bucs are the sixth best team in the NFL at avoiding 3-and-outs. The top-1o list is a rather impressive collection of playoff teams.
Joe will add that the Bucs are fourth in the NFL in total first downs this season, second in the NFC behind the Eagles. Overall, the Bucs offense is ranked 11th in the NFL in total yards.
So what does this reveal? The Bucs offense, guided by Jameis Winston and Dirk Koetter, is not a finisher. Relatively speaking, Tampa Bay goes limp in the red zone, or when it gets close. Yes, the playcaller and the QB get the lion's share of the blame, though there are many other factors.
Man, a true No. 1 running back would mean the freakin' world to this offense. It was the same song a year ago.