Jameis Says He Was All Talk, "Period."
December 28th, 2017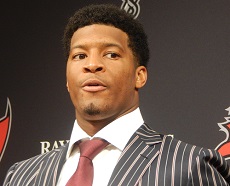 America's Quarterback, Jameis Winston, is being inaccurately portrayed, so he said firmly today at One Buc Palace.
A reporter at Jameis' weekly news conference today asked him about confronting Chris Baker in the locker room following the gut-punch loss to the Panthers on Sunday. It's a story that has taken a life of its own, and Joe can assure you (since Joe was there in Charlotte) that no local reporter witnessed the incident. And it appears, other than Joe, no other local reporter entered that postgame locker room there with knowledge of whatever yelling happened before media was allowed in.
"I didn't confront Chris [Baker]. Period. I joined a conversation that was going on," Jameis said.
Joe spoke to many players in that unhappy locker room about what happened. And Joe has spoken to others since. Nothing more than a bunch of yelling, not even a push. Big deal.
Joe can also say that with all that hollering, there were differing opinions being shared simultaneously. It wasn't one massive gang up on Baker.
Brutal loss. Tense times. Quickly diffused.