Ira Kaufman's 10 Takeaways From Bucs-Saints
December 31st, 2017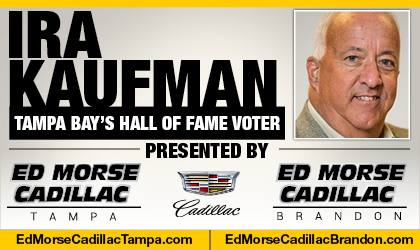 BY IRA KAUFMAN
With one glorious throw by Jameis Winston, a pass that both surprised and thrilled Dirk Koetter, the Bucs changed the narrative.
When that 39-yard strike landed in the reliable arms of Chris Godwin, Tampa Bay gave its long-suffering fans a taste of what might have been. The Saints played hard with an NFC South title at stake – but the Bucs played harder.
They were rewarded for their efforts with a 31-24 triumph that ended the second 5-game losing streak of a bitterly disappointing season.
In the aftermath, Buc players were proud they never quit, even if they lost some of the fan base along the way in a 5-11 season. New Orleans ended up backing into the division crown, but it was a heck of a win, avoiding an 0-6 slate within the NFC South.
Here's how they knocked out an NFC heavyweight:
* Godwin is looking like one of Jason Licht's best picks in his four years running the draft. Dirk Koetter compares him to a young Vincent Jackson and it seems like all the hype surrounding Godwin in training camp was justified. He makes the tough catches in traffic and he averaged 15.4 yards per reception. He has earned Winston's trust and big things are in store for the third-round steal out of Penn State.
* The Saints have played solid defense this season, but the Bucs had their way most of the game. Tampa Bay converted 13-of-18 on third down and reeled off 81 snaps. New Orleans defenders were gassed during what Sean Payton described as "an impressive 2-minute drive."
* Peyton Barber isn't going to rush for 1,500 yards like vintage Doug Martin, but you can win with him. The guy pushes the pile, doesn't dance and always seems to fall forward. If he turns out to be another Earnest Graham, so be it. Doug Martin? Three carries for minus-3 yards. Let's wish him well with his next team.
* Winston gouged the Saints for 363 yards, but he threw some ill-advised balls that ended up in the wrong hands. His second pick was a floater intended for Barber and his third interception was a poor decision. The face of the franchise has so much promise, but he's not quite there yet.
* Another week and another long kickoff return for a touchdown against the Bucs. That's simply unacceptable at a high school level. Rookie Alvin Kamara went 106 yards and wasn't touched … not even close. Kamara is a special rookie, but that's no excuse for another special teams meltdown.
* Patrick Murray provided an upgrade at kicker, but he should face some serious competition in training camp. Murray made only 2-of-5 FG tries from the 50 or beyond and his errant extra-point attempt on Sunday could have been disastrous.
* Give it up for Kwon Alexander, the heart and soul of Mike Smith's defense. Alexander led all players with 11 stops and he made a critical first hit against Will Lutz on a fake FG try, stopping him one yard short of a first down late in the opening half.
* Clinton McDonald's fifth sack of the season forced a punt that gave Winston one more chance to work some magic. It was an effort sack by McDonald, who never gave up on the play as Drew Brees was dropped for only the 20th time all year. Despite sharing time with Chris Baker, McDonald finished second on the Bucs, one sack behind Gerald McCoy.
* In case you haven't noticed, Koetter's offense finished the year on a high note. Tampa Bay topped the 17-point mark only four times in the first nine games. The Bucs scored at least 19 points in each of the final seven games, helped by a more balanced attack.
* The decision to keep Koetter for a third season looks smarter after Sunday's upset. The Bucs beat a highly motivated New Orleans team, outplaying the favored Saints by a wide margin. One win doesn't remove the stench of a 5-11 season, but Buc fans feel a little better about this franchise after a lost decade.