"Our Issue Has Not Been Lack Of Playing Hard"
December 16th, 2017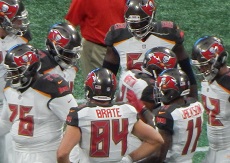 Even though former Bucs guard Ian Beckles says starting defensive tackle Chris Baker is "stealing" money from Team Glazer, head coach Dirk Koetter has a much different take. 
Koetter spoke to Atlanta media this week and D. Orlando Ledbetter of the Atlanta Journal-Constitution typed it up.
One nugget was about effort.
On playing hard on Monday Night Football: "I believe that's still a factor, but you are dealing with pros and every time they go out there…we haven't had an issue with playing hard. We've had an issue with getting the lead and holding the lead. We've played several close games. Our issue has not been lack of playing hard. That was evidence in our first game (against the Falcons) when we were down by three scores in the second half and got back into it. Our guys have been fighting this whole time. I would expect them to do the same on Monday night."
Yes, the Bucs have not rolled over. They're battling. But is the effort exceptional? Are the Bucs a team you watch every week that make you say, damn, they play 60 minutes of smashmouth football? No, they're not.
Koetter's Bucs have shown great resolve and fight late in games, but where is that urgency earlier in most games.
As offensive coordinator Todd Monken said eloquently a month or so ago, "We are consistently inconsistent."