Ira Kaufman's NFL Picks Against The Spread
December 9th, 2017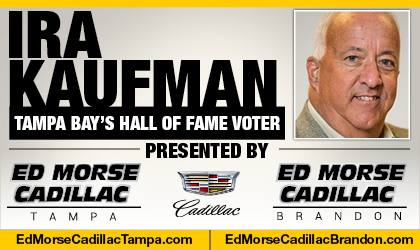 Joe has challenged Ira Kaufman, Tampa Bay's only Hall of Fame voter, to pick against the spread this season for a $500 prize. Every Friday, Ira types out his picks for each Sunday and Monday game. If Ira hits at 53 percent or better for the regular season, then he gets $500 in gift cards to Abe's Place in Clearwater, home of historically amazing food and 44 craft beers on tap. Feel free to send Ira your stone cold locks on Twitter, @ikaufman76. The sage of Tampa Bay sports always appreciates a tip.
BY IRA KAUFMAN
Ah, sweet redemption.
After nearly three months of frustration, your favorite football swami rebounded in a big way last week. A 13-2 mark picking against the spread is nothing to sneeze at, almost making up for all that losing.
A 75-95 overall mark may be no cause for celebration, but I've got momentum on my side as we head into the final quarter of the season.
While some teams are gearing up for a playoff push, others can't wait for January to break out the golf clubs and cruise tickets.
Let's keep this party going:
BUCS plus-1 vs. LIONS. With a chance to improve their home mark to 4-2, the Bucs need a win Sunday for Dirk Koetter's future and to avoid any possibility of ending the year on a six-game tailspin. Matt Stafford is hobbled, but he'll play because he's a warrior and the Lions are in the playoff hunt.
BENGALS minus-6 vs. BEARS. Cincinnati has been playing some good football while the Bears count down the days remaining for John Fox to roam their sidelines.
COLTS plus-4 vs. BILLS. As usual, you can't count on Buffalo to win a big game in December. Indy still plays hard and the Colts have enough play-makers to stay close in Orchard Park.
JAGUARS minus 2 1-2 vs. SEAHAWKS. Russell Wilson is a legitimate MVP candidate, but he's facing the NFL's No. 1 defense on the road and Blake Bortles will play within himself.
RAIDERS plus-4 at CHIEFS. It has all unraveled for KC after a 5-0 start that included wins against New England and Philadelphia. Oakland hasn't been overly impressive, but a win at Arrowhead keeps hope alive for an AFC West title.
VIKINGS minus 2 1-2 at PANTHERS. Minnesota has answered any remaining skeptics by combining a stifling defense with a third-string QB playing at a Pro Bowl level. Case Keenum will exploit some holes in Carolina's secondary.
PACKERS minus-3 at BROWNS. Green Bay fans are feeling it because the Packers are still in playoff contention and Aaron Rodgers may soon return. This could be Cleveland's best remaining opportunity to avoid an 0-16 slate.
TEXANS minus-3 vs. 49ERS. San Francisco is building some momentum for 2018, but Houston is no slouch at home. The Texans look like a team to watch next season.
REDSKINS plus-6 at CHARGERS. The Redskins aren't particularly good, but they can spring a surprise and Kirk Cousins can do some damage if he's well protected. The surging Chargers smell a division title in their grasp if they don't falter down the stretch.
JETS minus-1 at BRONCOS. There's no way you could have predicted the Jets would find themselves favored at Mile High this late in the season, but Josh McCown is thriving and the Broncos are in an embarrassing free fall.
TITANS minus-3 at CARDINALS. Tennessee is starting to assert itself as an AFC power behind a balanced offense led by Marcus Mariota. The Cardinals are very erratic, but Larry Fitzgerald continues to prove he's a Hall of Famer.
RAMS minus 2 1-2 vs. EAGLES. A difficult stretch continues for the Eagles while the surprising Rams continue their quest for an NFC West crown. Win or lose, Jared Goff will face some heat.
GIANTS plus 4 1-2 vs. COWBOYS. Eli Manning is back and the head coach has departed, so let's see how the Giants react in front of their home fans. Dallas looked a lot better last week, but the road can be harsh for Dak Prescott and company.
STEELERS minus-5 vs. RAVENS. Ryan Shazier's absence will be felt, but Pittsburgh has enough defense remaining to place Joe Flacco under duress. This time, Pittsburgh won't need a late field goal to win.
PATRIOTS minus-11 at DOLPHINS. Once again, New England is chasing the AFC's No. 1 seed and once again, the Dolphins have come up short. Don't count Tom Brady out in the MVP race … he's getting better with age.