Dirk Koetter: "Jameis' Accuracy Was Affected"
December 9th, 2017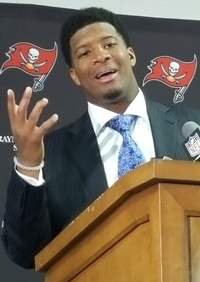 Typically perched in his home office on Friday evenings (Joe imagines with a beer but cannot confirm), Dirk Koetter is peppered with Bucs questions.
They come from fanatical Buccaneers fans firing away on the Buccaneers Radio Network.
Yesterday, "Jim in Sarasota," who called himself a Koetter fan and "an admitted Jameis homer," asked the head coach if Jameis' shoulder injury early against Arizona hurt Jameis' accuracy through the rest of the season.
Koetter delivered a thoughtful and heartfelt answer.
"I do think that Jameis' accuracy was affected by the injury because, let's face it, his injury was to his throwing shoulder," Koetter said. "Jameis is an unbelievably tough player physically and a tough competitor. A lot of quarterbacks in this league play through injuries. Stafford, the guy we're playing against this week in Detriot, is a good example, Ben Roethlisberger.

"That's what quarterbacks do. We were pretty fortunate the first two years that we were able to make it through and play all the snaps. Anytime you're dealing with a shoulder injury, of course, you can teach yourself how to adjust your motion a little bit and, you know, change your timing up so that you can continue to play. But I do think that has had an effect on Jameis this year. To what degree, no one will be able know that 100 percent, for sure, maybe Jameis. But outside of that, nobody else. I mean, God knows we've had tons of MRIs and doctors and multiple opinion, and they've all done a fantastic job. The bottom line is players have to play injured in this league or do play injured in this league, all the time, different degrees of injury."
All part of the learning process for Jameis, learning to play through injury, learning to lead through injury, and learning to come back midseason from an injury while continuing to learn and grow as a quarterback.
One nugget largely overlooked by many this week is the fact "shoulder" is no longer on the injury report for Jameis. It's a non-issue. It's all good after its first real test in Green Bay.
However, Jameis badly tweaked his ankle against the Packers and still was limping in practice this week. That was on the injury report, and Jameis dealt with ankle issues in college and previously with the Bucs.
As Koetter said, how much Jameis struggled with accuracy while his shoulder injury is unknown. He was very good in Buffalo, but perhaps he would have been better if healthy?
Joe is not concerned about Jameis' throwing accuracy and his playing ability. Joe's greatest concern is whether Jameis' accuracy is on the money when it comes to what happened during his last Uber booking.