"He's Was Limping A Little Bit On That Ankle Today"
December 6th, 2017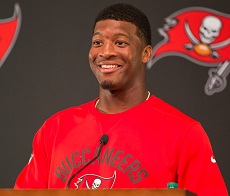 Injuries are hitting every NFL team, and now America's Quarterback, Jamies Winston, has a new official injury.
Fans saw Jameis limping a bit Sunday in Green Bay but it's still happening.
Formerly winning head coach Dirk Koetter told media this afternoon that Jameis hasn't shaken it. "He was limping a little bit on that ankle today," Koetter said.
It's that time of year for quarterbacks and most players around the NFL.
We all watched Cam Newton battle through a messed up shoulder through last season then have offseason surgery. Newton missed most much of the spring and summer work and then returned impressively, leading the Panthers to their 8-4 record. Lions QB Matthew Stafford, who the Bucs face Sunday in Tampa, has battled through many shoulder surgeries in his career and now has a messed up hand. He's still lighting up scoreboards.
It seems this season has given Jameis a chance he can play through significant injuries at the NFL level. It'll be interesting to watch how he handles the final four games physically.