Godwin Rising
December 12th, 2017
It is understandable if Bucs fans aren't seeing positives when the team is gunning for a 4-12 record, plus fans also have to worry about repairing the door ripped off its hinges after another losing Sunday.
One bright spot from Sunday was receiver Chris Godwin. The rookie actually got playing time in the first quarter (!) and he continues to produce when he gets on the field.
Godwin led Bucs receivers with five catches for 68 yards against the Lions. The way he is playing, it is going to be hard to keep him off this season or next.
And it isn't just Joe impressed by Godwin. A couple of national NFL analysts are seeing the same, Gregg Rosenthal of NFL.com and smart Evan Silva of Rotoworld.com.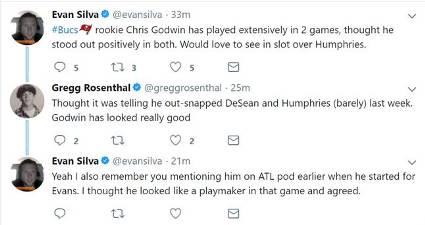 Yes, this looks like another potential steal for Bucs AC/DC-loving general manager Jason Licht. This year's draft is really looking to be a blockbuster with O.J. Howard, Justin Evans, Godwin and Kendell Beckwith.
Any time a general manager can get four starters in a draft — it is only a matter of time before Godwin starts — that, friends, is a haul.