Five Reasons The Bucs Can Win
December 3rd, 2017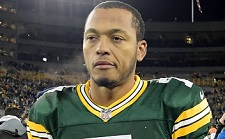 Ahh, the sweet smell of a bad football team on a Sunday morning.
No, Joe's not talking about the Buccaneers.
Today in Green Bay marks the last time this year the Bucs will face a team with a losing record on their schedule.
It's a winnable game against a bad quarterback. Brett Hundley versus America's Quarterback, Jameis Winston.
Here are 5 reasons to keep the brown bag off your head at 1 p.m.
*ESPN.com Packers beat writer Rob Demovsky typed up Green Bay's QB situation well: "The big picture for Hundley, in the six games he's finished (including five starts) since Aaron Rodgers broke his collarbone, looks like this: one win, five touchdowns, seven interceptions and a passer rating (73.2) that ranks 27th among all qualified quarterbacks during that stretch."
*No Doug Martin. Joe has maintained for well over a year that the Bucs running game would and should be better with Martin out of the lineup. Well, it was last season when Jacquizz Rodgers got his shot. And it was this year against the Bears and Giants before Martin returned. (And before you start howling that Martin was good against the Patriots, consider that New England allows the most yards per carry in the NFL.) Today, Martin is out with a concussion. Look for harder more downhill running by Rodgers and Peyton Barber, coming off the Falcons game in which the run blocking was more consistent.
*It's a near certainty that Dirk Koetter will dial up a pile of short, safe throws early for Jameis to get back into a rhythm. That's not typical for Koetter, and Joe suspects that will be a very good thing to help remedy the Bucs' slow starts.
*Speaking of slow starts, Green Bay is averaging four points in the first quarter through their last six games. In that stretch, the Packers are averaging 14.6 points per game. That's a great match for your slow-starting Bucs.
*Gerald McCoy. Yes, Joe's going to call it here, a big game for No. 93. McCoy was playing excellent football before he ran into All-Pro center Alex Mack last Sunday. Today it's Corey Linsley at center for the Packers. He's got a bad back and won't be picking up Pro Bowl votes anytime soon.