Koetter Talks About Post-Christmas Jameis
December 27th, 2017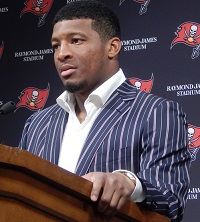 Dirk Koetter played fierce defense for his quarterback this afternoon.
Don't you dare call Jameis Winston "such a polarizing figure."
That's what former Packers linebacker A.J. Hawk did during an interview question of Koetter on SiriusXM NFL Radio.
Hawk wasn't attacking. He wanted to know what Jameis is doing behind the scenes to cement himself as a leader and help the team.
Koetter took exception to the initial premise and said anyone who thinks that are people who don't see Jameis' commitment to the team.
"A perfect example, I rolled into the parking lot at 5:30 this morning, pitch dark, and guess whose truck was already in the parking lot, Jameis Winston," Koetter said. Players day off on Tuesday, I roll in nice and early, guess whose truck is already there, Jameis Winston. You know, the guy is a grinder. He's constantly studying tape. He's meeting with the coaches. We've got guys in and out of the lineup; he's meeting with the new guys. He's trying to get everyone on the same page."
Koetter further emphasized the Jameis is devoted like franchise quarterbacks who are much older and mature.
"Don't be too quick to judge when you don't know all the facts," Koetter said.
The head coach wasn't attacking Hawk, just passionately standing up for Jameis.
Joe thinks it's pretty cool that Jameis was working at the crack of dawn after Christmas — on the players' day off.
Joe is confident Jameis will treat Sunday's game against New Orleans like the Super Bowl, which should be very entertaining.